Meravigliosi cuccioli in arrivo nella Terra d'Orfili… La nostra Nanà sarà presto mamma! I cuccioli sono frutto dell'accoppiamento tra la nostra bellissima Akasha Banana Split ( Crufts BOB, Campione Italiano, pluricampione estero) e Red Robins dos Sete Moinhos (Campione del Mondo 2011, Campione Europeo 2012, Campione italiano, Pluricampione estero e Campione spagnolo).
I cuccioli hanno un pedigree veramente eccezionale e nasceranno intorno alla metà di Dicembre, coccolati e viziati in casa come tutti i nostri piccolini.
Vedi il pedigree a questo link
Per prenotazioni e informazioni scrivere a info@allevamentobassethound.com oppure chiamare al numero +39 349 4030489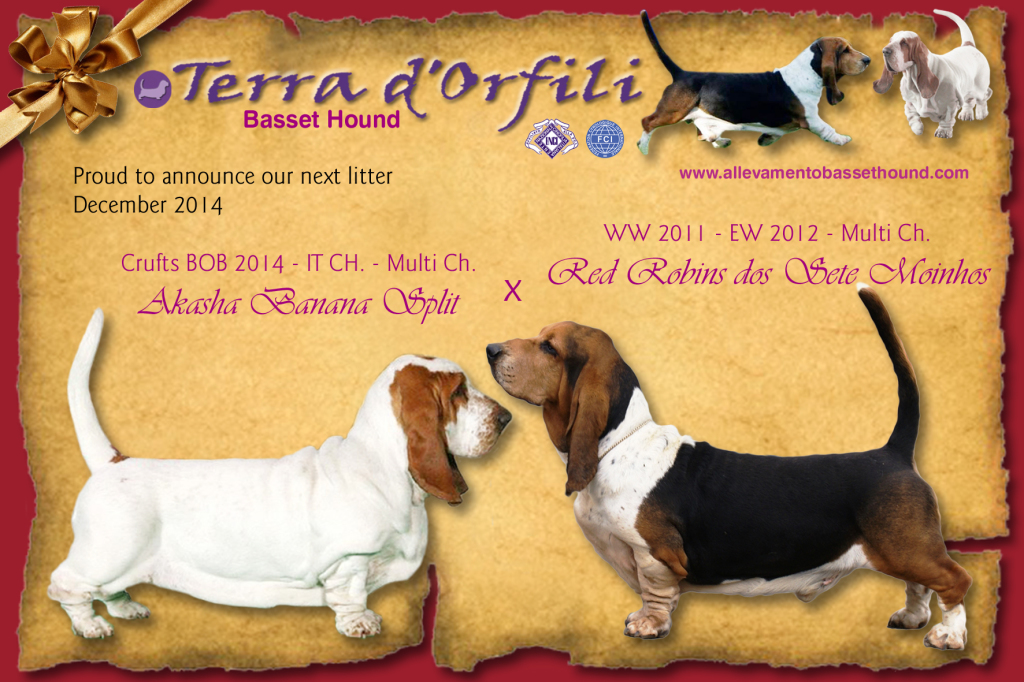 Wonderful puppies arriving at Terra d'Orfili Kennel … Our Nana soon to be mom! Puppies are the result of the mating between our beautiful Akasha Banana Split ( BOB Crufts, Italian Champion, champion abroad) and Red Robins dos Sete Moinhos ( World Champion 2011, European Champion 2012, Italian Champion, Multichampion and Spanish Champion ) .
The puppies have a pedigree truly exceptional and will be born around the middle of December, pampered and spoiled at home as all our puppies are.
See the pedigree of puppies here
For reservations and information please contact info@allevamentobassethound.com or call at +39 349 4030489