Ecco i Cuccioli della nostra bellissima Nanà! Basset Hound puppies for sale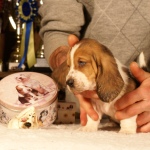 Vi presentiamo i nostri nuovi principini! Nati il 10 dicembre 2014, sono 7 bellissime femmine e un maschietto strepitoso…tutti tricolore! I piccoli sono figli della nostra splendida Nanà (Akasha Banana Split) Campionessa italiana, Pluri-campionessa estera, BOB al Crufts 2014 e del Pluri-campione, Campione mondiale 2012 Red Robins dos Sete Moinhos. Una cucciolata che si distingue per la spiccata tipicità ed omogeneità dei soggetti, che già manifestano inoltre un meraviglioso carattere.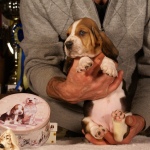 I cuccioli saranno consegnati alle nuove famiglie dopo il 60° giorno di vita con pedigree, vaccinazioni di base, sverminazione, microchip, libretto sanitario e passaporto europeo (ove necessario). Per informazioni contattare il n. +39.349.4030489 oppure +39 328.4090191.
Il pedigree dei cuccioli è visibile accedendo a questo link
Per maggiori informazioni contattare Antonella al 328.4090191 o Guido al 349.4030489 oppure inviare una email a info@allevamentobassethound.com
We introduce our new princes ! Puppies were born on December 10th, 2014  7 beautiful girls and an amazing boy… all tricolor ! Parents are our wonderful Nana ( Akasha Banana Split) Italian Champion, Multi – Champion, BOB at Crufts 2014 and the Multi – champion , 2012 World champion Red Robins dos Sete Moinhos. A litter that is characterized by the strong typicality and homogeneity of the subjects, who already have also a wonderful temperament.
The puppies can leave to their new families after the 60th day of life with pedigree, basic vaccinations, worming treatments, microchip, health card and European passport ( if necessary ). For information contact the number. +39.349.4030489 Or +39 328.4090191 or send an email to info@allevamentobassethound.com.
See puppies pedigree here
Guarda il video qui